Time to ditch your all-season tires for the winter...
...Your families safety could depend on it!
September 25, 2017 

Despite the mild weather and pumpkin spice lattes, winter is not far away! Before it hits, most people switch to winter tires, and some already have.  We hope to show the "year-round summer tire drivers" how important winter tires are.
Winter tires don't have to be a huge investment. Call our parts department - they have packages with or without rims designed fit your budget! If you are purchasing a new vehicle, talk to our finance team about including winter tires in your vehicle payments!
It can take up to 40% longer to stop with all-season tires, compared to winter tires. In a 100-meter scenario, this could be up to 40 meters longer to stop if you are without winter tires! The force of a crash increases based on speed at the time of impact.
The most important part of a winter tire is the rubber compound, which helps keep occupants safe. The compound stays soft in freezing conditions (under 7oC) which allow the tire to grip surfaces, even an ice-covered road. Summer tires harden as temperatures drop, and don't grip the road. All-season tires could be driven year-round, but can't compete with winter tires in the winter.
In addition to providing better grip on ice and snow by having a softer compound, winter tires move water away from the tire. When the tire puts pressure on icy surfaces, the top layer melts, creating a layer of water. If the water doesn't move, the vehicle hydroplanes. The grooves and sipes (tiny channels) on winter tires move water, and allow the tire to stay in contact with the road surface.
Winter tires used to have deeper treads, to get through deep snow. The compromise was less stability and control when accelerating, braking or turning, along with a noisy ride.  Technology today focuses on shallower treads, with grooves closely spaced, so water moves away from the tire. New rubber compounds create softer rubber, without losing other critical properties.
Studded tires don't work as well as non-studded ones on a cold, bare pavement. Be aware of this, as most of winter driving will probably be with those conditions.
Good winter tires can stick to glare black ice providing they are within their traction limits. If you hit ice, look where you want to go, and keep a light grip on the steering wheel. This should help you regain control.
You might want to consider reducing the pressure in winter tires in an emergency situation where you have to drive through snow or ice that the tires couldn't normally pass through. This increases the tires contact with the surface. Keep in mind this will lessen control of your vehicle, because the tires will be less stable. It's always best to use the pressure recommended by the manufacturer. If you do lower the pressure, drive slowly, and add the proper amount of air as soon as possible.
Having 4x4 or all-wheel drive does not replace having proper winter tires. All-wheel drive helps you accelerate but braking and turning capabilities are hardly different when comparing an AWD with 2WD. When turning or stopping, limits are determined by the traction the tires deliver, not the number of wheels being driven.
When purchasing winter tires, consider tires one or two sizes smaller width-wise than the regular tires. With a smaller width, pressure placed on the surface below increases, helping to get through snow and reduce hydroplaning! Winter tires are not designed the same; winter tires carry the latest technologies in rubber and tread. Traction could be up to 15% better than economy type winter tires.
Reach out to our Parts Department with further questions or concerns about whether your current tires will perform properly in our cold. They are experts in tires, and put safety first, while still considering budget and other concerns!
---
The mystery note left on a
2017
 Ram 2500 Laramie MegaCab
and a message to the person who wrote it.
July 20, 2017
We found an anonymous note tucked behind the drivers' side windshield wiper of a truck on our lot yesterday. It reads something like this: "Please don't sell this truck. I really want it. If you can just give me about 9 years I will have enough to buy it. Okay thank you.".  The author is a mystery, but that's not the only mystery about this note.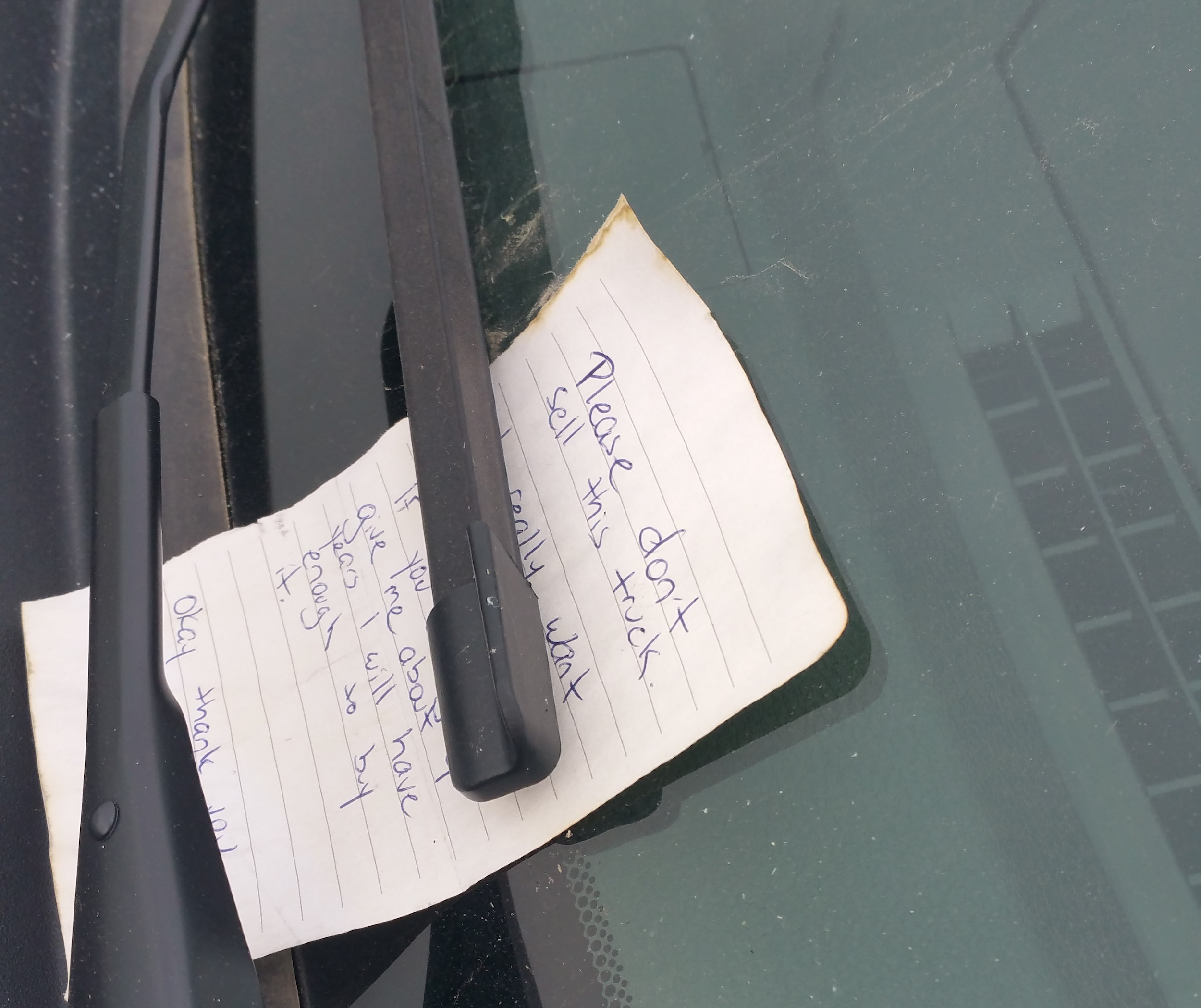 We're sure you have unanswered questions about this, so do we! Who wrote it? Was it someone who has been in the dealership before? Was it
Connie
, playing a prank on us? Was it someone who was "window shopping" and stumbled upon their dream truck? Was it a child who figured in 9 years they'll be old enough to work, save money (and maybe drive)? Why 9 years? What kind of mathematical logic went into this number? Were they considering future income, expenses and savings? expected inheritance? 
The big question is: which truck motivated someone to take the time to write such a detailed request, asking a dealership to hold the truck for them for nine years while they saved enough money to purchase it, without so much as a name to validate the offer?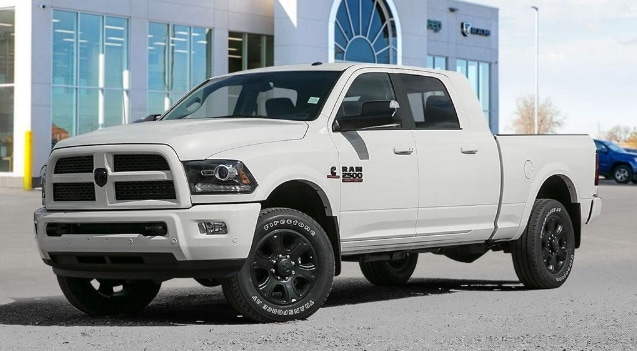 This beautiful
Pearl White beast
boasts the 6.7L Cummins I-6 Turbo Diesel engine in 6 speed automatic transmission. This truck has a lot of add-ons, minor details such as bed lighting, cargo view camera, remote start system, 5th wheel towing prep group, auto level rear air suspension, and the sport appearance group (which includes body color door handles, black mirrors, badging, premium tail lamps, body color front/rear bumpers and grill with black insert, as well as on/off road tires and 20-inch black aluminum wheels.).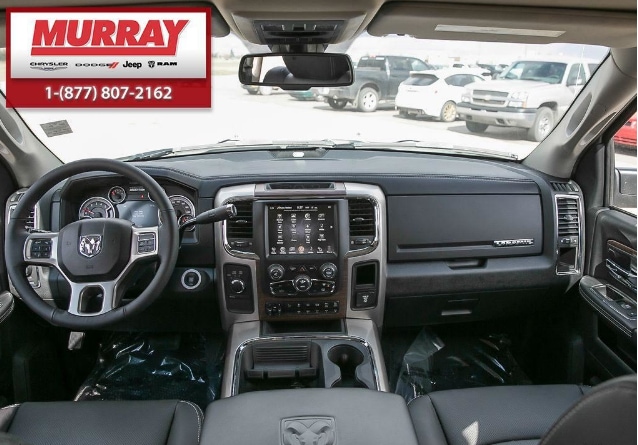 As you can see, the
Ram 2500 Laramie
 is loaded with standard luxury, going above and beyond the standard equipment included in lower trims. Things like the heated leather-wrapped steering wheel, heated & ventilated leather bucket seats, Park-Sense front & rear park assist system, as well as ParkView rear back-up camera.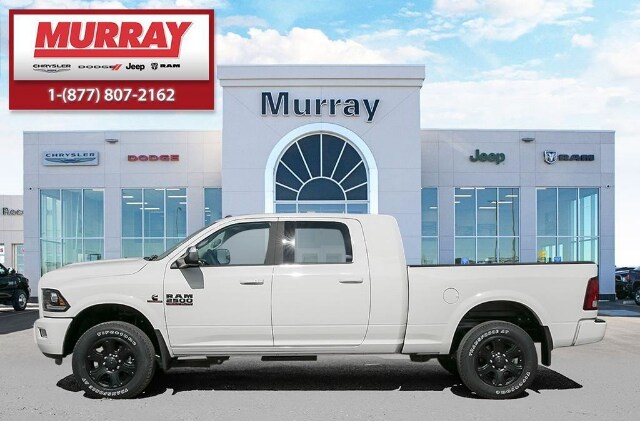 Look at that Mega Cab, though! Forget about kids kicking the back of your seat, your passengers in the backseat will be almost as comfortable as you are in the front seat!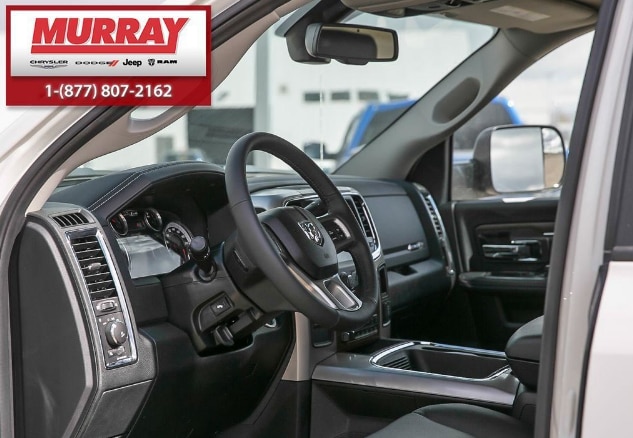 So, to our mystery author we'd like to say, we understand completely why this is your dream truck. In fact, it's ours too. I have some great news for you though; you don't have to wait 9 years to make your dreams come true! We have an
in-house auto credit department
that can set you up with payments that fit into your budget, and if your credit, employment or something else is standing in your way, we have an amazing
credit recovery program
! We also have a lot of other
trucks
that might suit your budget right now. If not, I guess we'll expect to see you in 9 years for your
2026 Ram 2500 Laramie Megacab
, complete with standard self-driving technology, Whether you want to hover or fly, you'll arrive at your destination at what feels like the speed of light! 😂😂😂
**We would also really love to meet the person who wrote this note. There have been many laughs and speculations on who could have possible written it, and we have it posted in the dealership. So please keep sharing it and help us find the writer, who may or may not have given a second thought to how much entertainment this note would provide!**