Hemi history
By Alex McKenzie - March 1 2018
Unless you have been living under a rock for the past 60+ years you have probably heard about the Chrysler Hemi engines. But have you ever wondered what "Hemi" actually means? Chrysler named their engines after the hemispherical shape inside the combustion chamber. In case you are wondering what that even means just imagine half a base ball that has been carved out so it is completely hallow. With this dome shape design some of the many advantages are that the engine does a better job at completely burning all the fuel in each cylinder, it is able to do this because the surface area is smaller allowing less heat to escape. Another key advantage is Hemi positioning the valves on opposite sides of the cylinder head, this is a better design than the competition's design being that with the valves placed on each side increases better air flow for the engine.
With that quick brief on the Hemi design I want to now start telling you how the Chrysler Hemi came to be. The first Chrysler Hemi engine was a 36 litre XIV-2220 inverted V16 in 1940. The engine was making 2,500 horsepower and was fitted into the P-47 Republic Thunderbolt. Although the engine was perfect for what it was built for it never made it into production with WWII coming to an end the program was later closed down. As Chrysler Hemi knowledge grew after the war it didn't take Chrysler long to figure out another way to continue creating powerful engines. In 1951 Chrysler's first production engine hit the roads, the engine was Chrysler's first overhead-valve V-8 it was a 331ci "FirePower". It was a huge improvement over the older flathead engine design.
Next up is the the 426 Hemi. Also known as the "the elephant" engine. This was the first engine to wear the "Hemi" name and for good reason to. The 426 Being completely refreshed had a high cost to produce and only 11,000 were made for customers. The engine was initially designed for NASCAR and completely controlled the racing circuit winning 26 out of the 62 races in 1964. With the engine being so dominant 1965 was a different story for the 426 Hemi having to face a ban from NASCAR for the engine not being easily available for public customers. Chrysler's solution to rebound from the ban was to simply knock down some tuning of the original design and sell the needed amount of engines so they could return to NASCAR in 1966.
Skip ahead a few years to 2003 when Chrysler introduced the 5.7 litre Hemi. This engine was built with an almost exact hemisphere combustion chamber making 345 horsepower and 375 torque making it a easy decision for Dodge to plant this engine in the Ram 1500, 2500 and 3500.
A couple years later in 2009 Chrysler-Fiat decided to separate Dodge from Ram. This big decision lead Chrysler to give the 5.7 litre Hemi a bit of an update. This update equipped the engine with refitted cylinder heads, intake manifolds and variable valve timing for better airflow. Another major component that was added would be variable-displacement system, what this system allows the engine to do is deactivate cylinders improving fuel economy. What might surprise you is that Chrysler did not sacrifice power for fuel economy, the 5.7 litre Hemi makes 410 torque and a shocking 395 horsepower. It's no wonder with numbers and a strong background like that Hemi is the best selling V8 in Canada.
JEEP CAMPING

March 1, 2018 - By Selby Jessiamn

Its March, that means summer is just around the corner. The snow is melting, the days are getting longer and spirits are high especially around the dealership! My favorite part about summer is going camping in my Jeep Wrangler. Not only is it perfect for the off-road portion off camping, you know navigating the camp ground that might be located at the top of a hill or even a mountain. Put the wrangler in 4WD high and away you go! What makes a Wrangler perfect for camping is that its built for multipurpose use for instance off-roading, sleeping and stargazing! Once you find the perfect spot, put your rear seats down, throw in some blankets and pillows or even a mattress, blast your favourite radio station, and lastly remove your roof! If you're looking trying to get a date, a Wrangler is the perfect wingman. If you're looking for a way to impress your friends, a Wrangler is the perfect tool. Maybe you're just looking for a versatile vehicle for some summer fun, choose a Wrangler. Don't waste your money on an expensive tent… just use your Wrangler.
-If you are like me and looking for some great camping spots in the area check out these places:  
·         -Mountain View Farm Camping - East Calgary/Chestermere area
·         -Riverbend Campground - Okotoks
·         -Wyndham- Carseland Provincial Park- Carseland
·         -Natures Hideaway - De Winton
·         -Strathmore Recreation Campground - Strathmore
·         -Eagle Lake - Strathmore
·         -Calgary West Campground- West Calgary
·         -George Lane Memorial Park and Campground- High River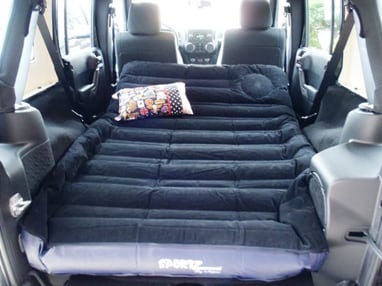 DID YOU KNOW?
By Selby Jessiman - March 1, 2018

Did you know that the F in FCA stands for Fiat? You got it, all together it means Fiat Chrysler Automotive. Although our dealership doesn't sell new Fiat vehicles directly because of the small market for them, we can most definitely help you locate a used one!
As I have mentioned in a previous blog on my recent trip to Spain I saw a lot of Fiats buzzing around. Europe is a great market for these vehicles because of the narrow roads, and the smaller the vehicle the better. Fiats are particularly small vehicles both in width as well as length. Like Fiats, Jeep vehicles have similar characteristics for instance great fuel economy especially on the smaller models such as the Renegade, Compass, and Cherokee. Along with fuel economy, Jeeps turning radius and ability to navigate narrow roads put it along side a Fiat vehicle. Another similarity between Fiat and Jeep are the broad and vibrant color options which are fun and noticeably unique.
Since Fiat acquired Chrysler in 2014, there have been drastic changes made to the interiors of our vehicles. Fiat has won numerous awards for their interior design and it has definitely spiced up the look of our Chrysler, Dodge, and Jeep vehicles.
Take a look: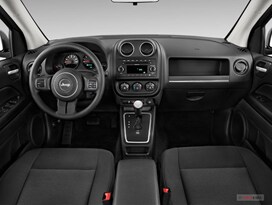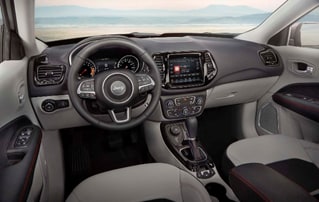 2014 Jeep Compass                        2017 Jeep Compass
I spotted this particular Fiat in Barcelona, Spain: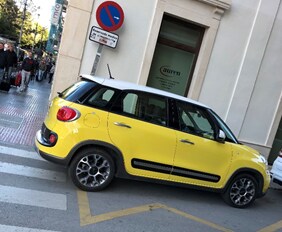 Selby In Spain -
March 1, 2017 : By Selby Jessiman

I recently had the opportunity to travel to Spain, first I stopped in Barcelona then moved to Sevilla, and finally stopped in Malaga. During my trip I was not surprised to find many FIAT and Jeep vehicles roaming around Spain as they are small and have great turning radius allowing them navigate around the narrow and windy roads. After many un-successful attempts to try and photograph the jeep vehicles I saw, I finally got one! Two hours on a crowded bus and not to mention a pack of Gravol later we arrived at the white washed city of Filligniana located just outside of Malaga, where I saw the coolest thing. A bright yellow Jeep Renegade in a completely white washed city.
The Jeep brand has 4 core values and 3 types of core customers. The 4 core values they hold are: Freedom, Adventure, Authenticity, and Passion. The 3 types of core customers that resonate with the Jeep brand are the: Adventurer, Doer, and Dreamer. In Jeep terms, a dreamer is defined as someone who wants authentic gear with the hope that one day they'll be able to do more and dream less. When I saw this bright yellow Jeep Renegade I knew immediately what type of customer this jeep belonged to… a dreamer. As you can imagine, in a white washed city a bright yellow vehicle would stand out and I believe that is exactly what this jeep owner wanted to do. Additionally, this Jeep owner would hold the value of authenticity highly; owning this vehicle in a white wash city is about as authentic as it comes. It was neat to see these jeep values and customs come to life, and especially neat to see it in a foreign country.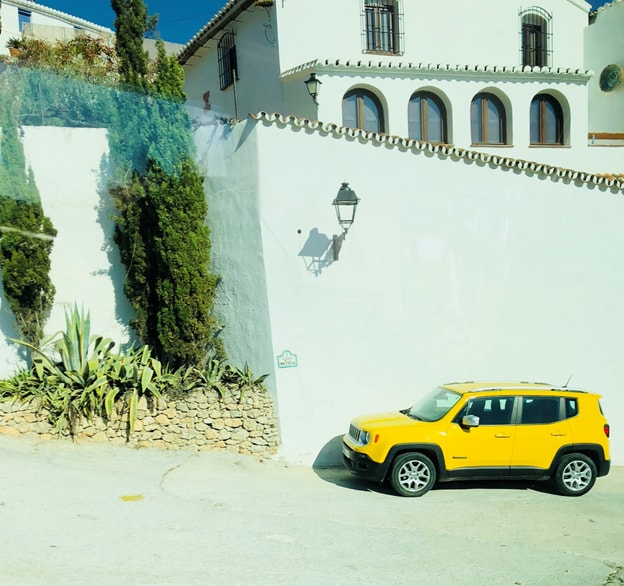 Photo captured by Selby in Spain
Say Goodbye to the Slimy Used Car Sales Guy"
January 26, 2018, Selby Jessiman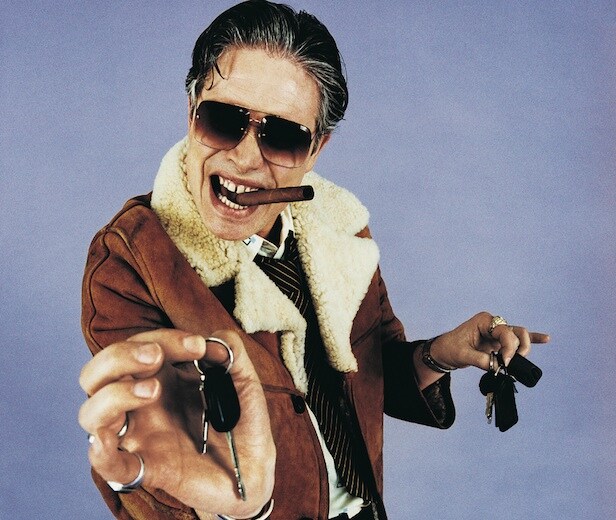 Car sales is probably one of the most fun and up beat professions out there. It seems as though there is always something to do at work, even if you aren't particularly busy. I find it exciting to assist people with the second biggest purchase in their life; a vehicle! 
If you have bought a vehicle from a person or dealership in the past who did not make your experience exciting and make you feel important throughout the process, then you definitely bought from the wrong place. There is a major disadvantage in the automotive industry, particularly the sales side of things. 
This disadvantage is the stigma that is attached to the industry, you know that assumption of dealing with the "slimy used car sales guy." The untrustworthy salesman who's suit is two sizes too big and has a bbq stain on his shirt…the guy you know is going to try and rip you off. 
We at Murray's want to set the record straight, those days are far gone. We are fighting the stigma with managers and sales professionals who provide full disclosure and above the line transparency. The heart of our business is honesty and integrity which translates to our sales process. We hope that as we earn your business, we can earn your trust and work together to fight against the stigma of the car industry!
Preventing Vehicle Theft Starts Here. 
January 15th, 2018, by Ashley Cunningham
If you're on Facebook or Twitter there's no doubt you've heard about the increase in attempted and successful vehicle thefts in the Wheatland County area. Car thieves are becoming more and more brazen in when and where they attempt these thefts, which means we need to become more and more diligent in doing everything we can to prevent them.
If everyone steps up and makes car theft more difficult, or near impossible, we will surely see the number of attempts decrease, as the task of stealing a car becomes harder and harder.
It's obvious that if someone steals or attempts to steal your car it becomes a major inconvenience to you. Not only is there a great possibility of your beloved ride having damage done to it, due to reckless driving, or in attempt to get into it, you could lose your belongings as well. All it takes is forgetting your wallet inside one night, or leaving your camera on the backseat. You then have to deal with reporting the theft (or attempted theft) to the police. These are all very valid reasons to want to prevent vehicle theft, one other thing, that is actually a good thing, is that a lot of insurance companies actually offer discounts if you have aftermarket or installed security features! So call your insurance agency and see how much money you can save!
Did you know that the most commonly stolen vehicles in Alberta, in 2016 were all Ford heavy-duty trucks? The years vary between 2002-2007, but the models were all F250 & F350's!
There are a few, easy things you can do to prevent theft, that may seem like common sense, but often are the reason vehicles get stolen, or items get stolen from your vehicle!
          

Roll up the windows, lock all doors

          

Never leave your car running unattended

          

Keep your insurance & registration stored outside of your car. Many incidences of thieves being pulled over and providing     insurance     and registration has allowed them to slip through the cracks. This one is easy - store the documents in your wallet or     purse. I've started doing this and it has brought a lot of peace of mind!

          

Park in a well-lit area - would be thieves thrive on dark areas!

          

Keep your valuables in the trunk, or with the privacy cover extended. Better yet, take all valuables inside with you!

          

Install an anti-theft system (we can help you with that - reach out to our parts department for more info!)

          

Have a garage? Use it! Full of stuff? Have a garage sale, utilize storage shelves and bins, make room for your car! This is almost     the best way to prevent theft!

          

Set your emergency brake! You have to imagine when stealing a car, the individuals must be experiencing stress -

 

the same     stresses we all have, plus whatever else has driven them to try to steal your car. In addition to this, they are currently in the     process of stealing your car. They are anxious and worried that they won't be able to "finish the job". They're worried about not     being able to start the car, whether your neighbors will come out, whether you'll see them, if a police car drives by, if they'll be     caught after stealing the car. So basically, anxiety and panic is at a high. What if you set your emergency brake, and that was     enough to put them into a complete panic and bail on the idea. They might think something is wrong with the car, or wonder why     it's not performing properly, and ditch yours.

          

Contact our parts department and ask about after market accessories that can help protect your vehicle from theft.

If we all step forward and be diligent in doing our part, we can make it as inconvenient as possible for these criminals. While it's unlikely we'll see this crime disappear in the near future, we can at least hope the trend will start to swing downwards and these will become less and less heard of. 
What's that Smell? Sound Familiar? 
January 10rd, 2018, by Darin Collins
Imagine this.  You are walking out to your vehicle dreaming about the new truck you plan on buying today when you panic at the realization that your trade-in vehicle is dirty!  Not talking minor vacuum, wipe down, and good to go type of dirty either.  More like nasty, gross, and even a little bit embarrassing kind of filthy.  You don't want to take it to the dealership looking like this!  After all Strathmore is a small town and these things get around!!
You think about how long it will take to clean the van in this condition!  You don't have that kind of time today.  Your mind races wondering if this will affect what it's worth to the dealership.  Either way, you decide to bite the bullet and hop in the van.  When you arrive, you reluctantly hand over your keys and grimace as the salesperson opens the door to inspect your eyesore.  
Sound familiar!?  Most people take pride in what their vehicles look like but don't enjoy the labour involved to maintain the showroom shine.  That used to be me.  With three young kids it takes about a week to get my van dirty.  I was tired of cleaning it, so I had it professionally detailed.  It feels like a brand new car every time I get it done, and I love the job they do at Murray Chrysler in Strathmore!
Whether you are planning to trade in your vehicle for a new ride and want it spiffed up to show the appraiser, or you want your old vehicle to look like new again, our detail department is the place to go!
The Dodge Caravan - it's here for you!
January 8rd, 2018, by Julie Medved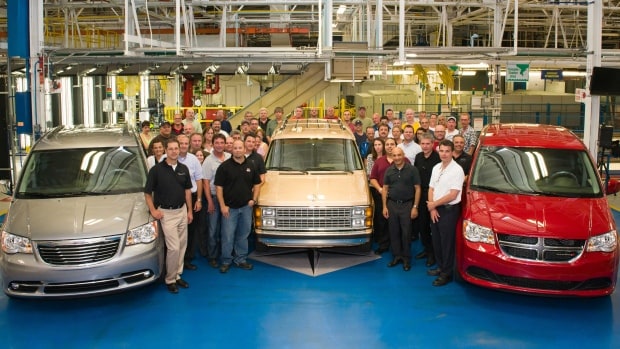 I'm a huge fan of the Dodge Caravan, partly because I grew up in Windsor, Ontario where my Dad worked at the Chrysler minivan plant. 
Memories of grease stained floor mats, unpleasant tobacco aroma, old cassette tapes, well, I could go on. My parents usually drove them to the ground. It was a vehicle we used for everyday travels, short and long, as well as hauling wood and whatever else would fit in a 8 by 4 foot space with the seats stowed in the floor.
Today the Dodge Caravan is one of my favourite vehicles to sell. Convenient, practical and affordable are just a few points that come to mind. November 2017 marked its' 33rd anniversary! Competition? Well Ford and Chevrolet discontinued their 'version' of a mini van over a decade ago because they couldn't compete. 
The Dodge Caravan is not for everyone, but almost everyone would enjoy it! If you're trading in your old caravan for a new one, don't forget your DVD's but don't worry about garbage, dirty diapers you  may have left behind in the storage floor bins, our detail department will take care of it as part of our reconditioning process.
And it doesn't matter what shape it's in, just say good bye to the old memories and hello to new ones!
Check out our Grand Caravan inventory here. Looking to trade? Find out what your trade is worth here! 
2018 Grand Cherokee Trackhawk 
January 3rd, 2018, by Selby Jessiman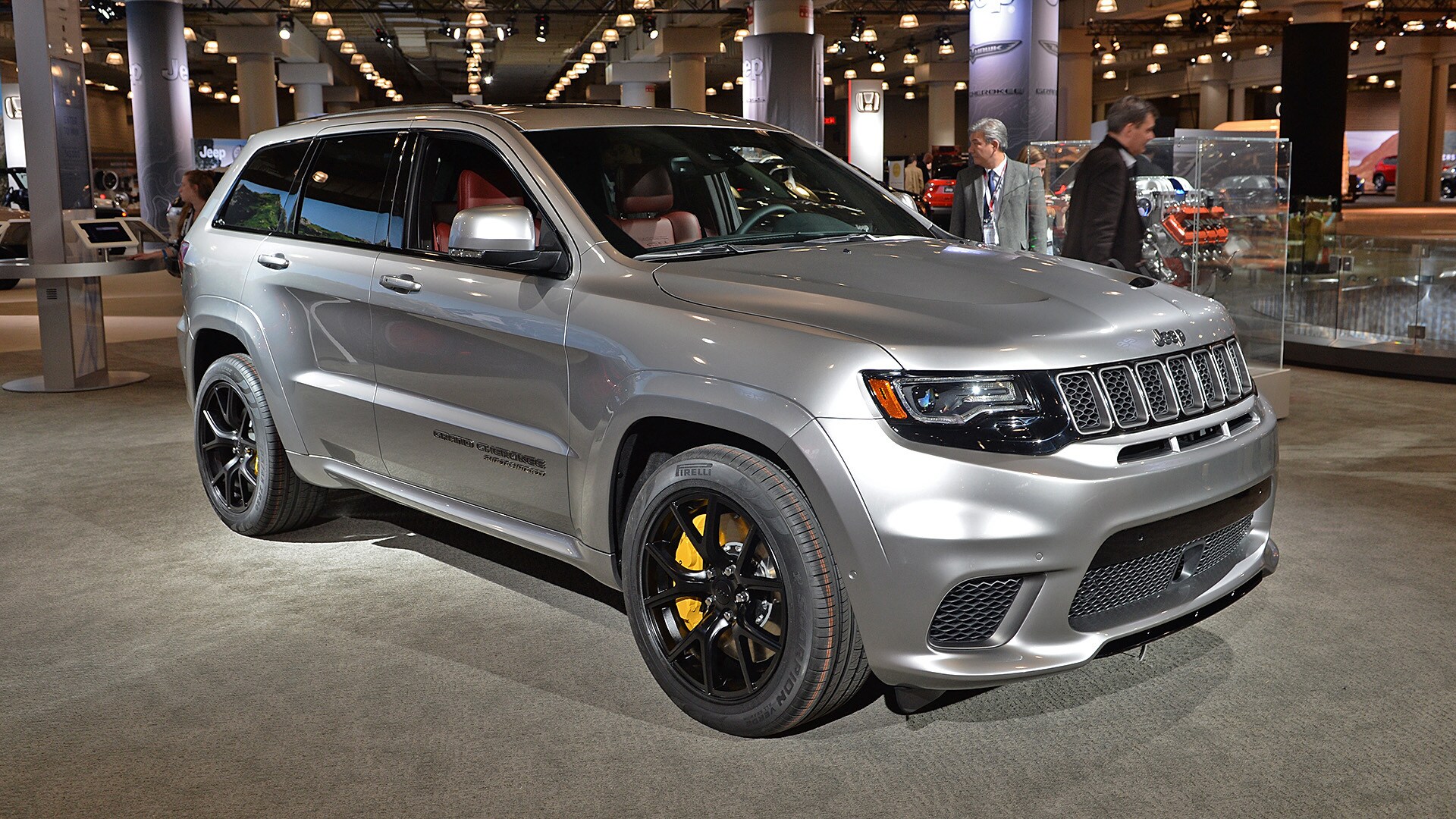 Happy 2018! Everyone always says "new year, new me," and what better way to introduce a new 'you' to your friends and family than pulling up in the worlds most powerful SUV, the 2018 Jeep Grand Cherokee Trackhawk. Picture the luxurious Grand Cherokee SRT with even more upgrades and the best part… a 6.2L Supercharged Hellcat Engine, otherwise found in the Challenger Hellcat. Only better than the Challenger, the Trackhawk is all-wheel drive and can tow up to 7,200 lbs!!
There are only 300 of these units being released in Canada, and you better believe Murray Chrysler in Strathmore is getting not one but TWO! You definitely won't fly under the radar in my personal favorite, the Diamond Black Crystal Pearl beauty with Nappa leather Ruby Red seats.
My favorite features are the bright yellow six piston Brembo brake calipers and the quad exhaust tips, there is no other vehicle on the road like it. 707 horsepower and 945 lb-ft of max torque this cat goes from 0-60mph (97km/h) in 3.5 seconds, you might think you're in a Ferrari only it seats 5! To make the driving experience that much more exhilarating, our Trackhawk has a High-Performance Audio package as well as a dual pane panoramic sunroof… the only thing the Trackhawk doesn't have is wings! If you haven't made your new years resolution yet, you should make it to come check this beast out!
 Follow us on Facebook or Insta and watch for updates on the Trackhawks arrival!